The Placebo FX Show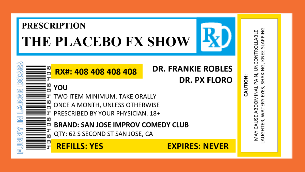 They say that laughter cures all, so come on down to the San Jose Improv on Wednesday August 16th as we give you a free dose of comedy sure to cure your daily woes.

PX and Frankie Robles bring you comedians who have performed on stages from The Comedy Store in Hollywood to Gotham Comedy Club in New York. So come in and let our certified comedians do what they do best and cure you with the gut-wrenching laughter that will leave you laughing until the next show.

Come celebrate the debut of "The Placebo FX Show", here in the beautiful heart of downtown San Jose.